So if you're at all familiar with my cellphone purchasing habits, you know that the question posed in my previous post was more rhetorical than anything: of course I had to get an iPhone. Yesterday my boss convinced me to ditch work early and go stand in line for an iPhone with him, so we did (and I obviously didn't have to worry about what the boss would think about leaving in the middle of the day). We were about #25 in line at the AT&T store (the Apple store already had 100+ people), and we had no problem getting 8GB models. Fortunately I had my DS and was able to play through a couple dungeons in Final Fantasy V while we waited, so it wasn't that bad. On the unfortunate side of things, once it was all done the stores did not sell out and had plenty of stock left over, so it was a waste of time to wait in line. Oh well.
Now that I have been playing with it for a while, I am glad that it appears to have been worth it (money-wise, if not time-wise). I expect to make heavy use of a lot of the features, so it might not be worth it for somebody who wouldn't. Since there are plenty of iPhones to go around, you might want to try out a friend's before getting your own if you're on the fence.
Here's my Good vs Bad list so far:
Good:
It really is as smooth and as fast as in the ads - they were using the real thing.
The EDGE data rate is not as bad as I expected. Google Maps is pretty usable, and I was even able to stream a YouTube video of David Hasselhof singing and dancing with almost no lag time for buffering. Safari can load yahoo.com from scratch in about 30 seconds, though repeat visits should improve a lot due to image caching.
The Google maps application absolutely rules. The turn-by-turn driving directions are particularly sweet. I will never have to print out directions to anything ever again.
Calendar & Contact syncing to Outlook works without problems - now I can check where & when my next meeting is at work without needing to go back to my computer.
Safari works as advertised - it really is a full-fledged web browser on the phone (minus Flash). This will get lots of use whenever I have to take the bus somewhere or am waiting in a restaurant.
Bad:
It took 45 minutes to activate the phone using iTunes, which bluescreened my computer once (it was probably an interaction with my sound card driver).
Transferring my phone number from T-Mobile pre-paid was a huge pain because I did not have a billing address for the old number (since there's no bill). Fortunately after calling AT&T a few times it eventually got worked out. (Though I never provided any identifying information other than my old phone number and the zip code where I bought the phone - apparently that's all it takes to steal a T-Mobile number from somebody..)
Exchange email syncing only works if the Exchange administrator has enabled IMAP over SSL, which no security-conscious IT administrator will do. No reading work email on the phone 🙁 (this may be a blessing in disguise though)
The IMAP mail client does not recognize any of my IMAP folders other than Inbox (such as Sent, Spam, Drafts, etc.). I think I can fix this though.
I cannot use my good headphones in the iPod jack because it is too small. David Pogue noted this in his column but it was unclear what he meant. Here's a picture: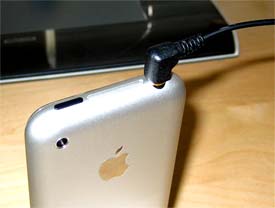 Finally, here's a YouTube video of me using a few of the features (Google Maps, YouTube, Mail, Safari, iPod) if you want to get a feel for how they work (note that the phone was using WiFi in this video):
Posted on June 30, 2007
Google Street Views has patchy imagery of Denver, with pictures at lower resolutions than their San Francisco imagery. Even so, I was surprised to be able to find lots of pictures of familiar places:
My parents' house (obstructed by a tree):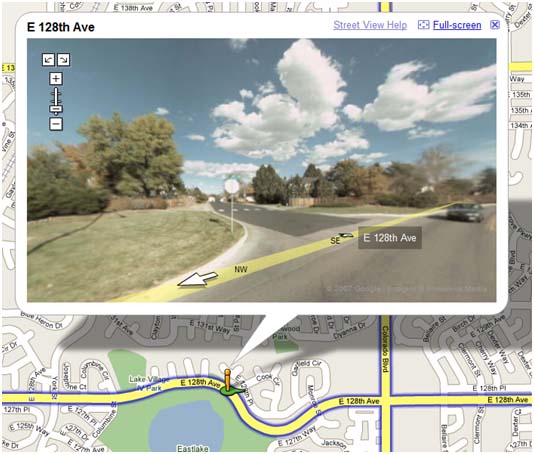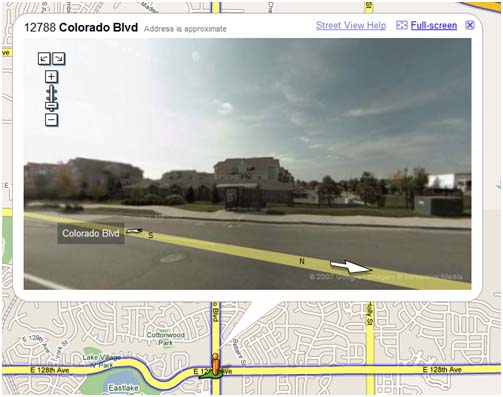 High school (shudder):
Old job (Sun Microsystems):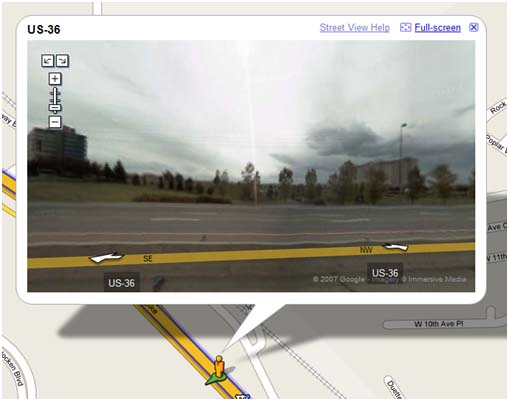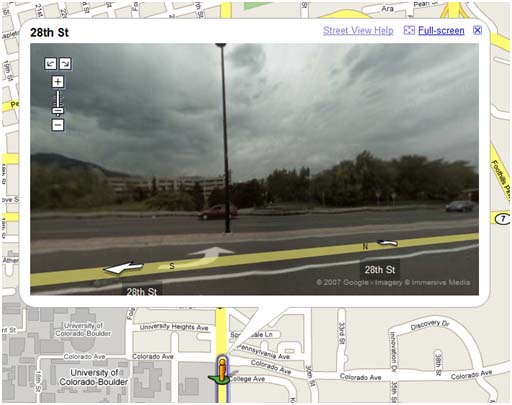 Across the street, my old apartment (not really visible):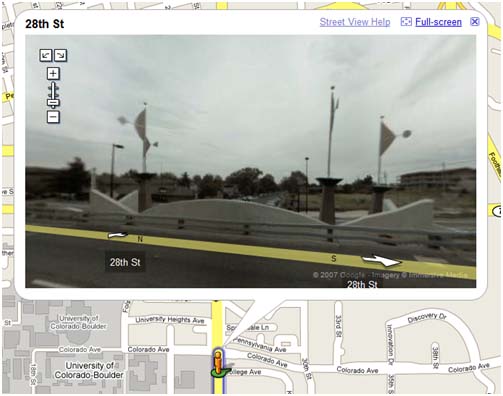 Posted on June 16, 2007
One year ago I created this web site with the goals of creating something that might be interesting enough to read and to take over the #1 Google search result for my name. I'm not unbiased enough to comment on the first goal, but I can gauge the success of the second:
In fact, as an added bonus due to some blog posts and a magazine article I wrote for work, now 9 out of the top 10 and 43 out of the top 50 Google search results for my name are related to me. Sweet. I don't think I have to worry that somebody searching for me will find the wrong person any more.
It's also interesting to check out the Analytics stats for the past year (which, somewhat significantly, do not include RSS readers):
Daily pageviews: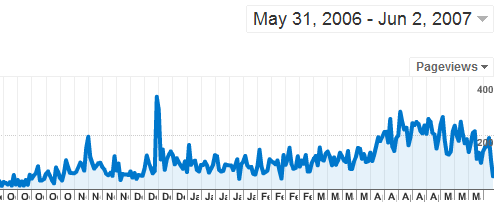 Thoughts:
200 pageviews per day? Not enough for AdSense 🙁 (not that I would anyway)
Hits by Browser/OS combination: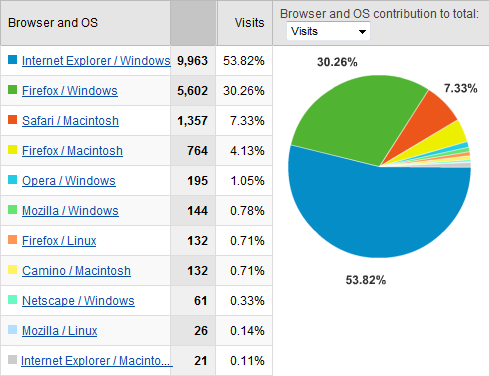 Thoughts:
Since 90% of the hits to my site are referred by random Google Image Search (images.google.com) queries, this mix of hits might actually partially represent a statistically random sample, combined with the people who know me.
One wonders, who are those 53% of people who still use IE?
Mac OS X at 11.5% is a pretty strong showing.
So much for Linux on the desktop. (0.85%?)
Search engine keyword hits: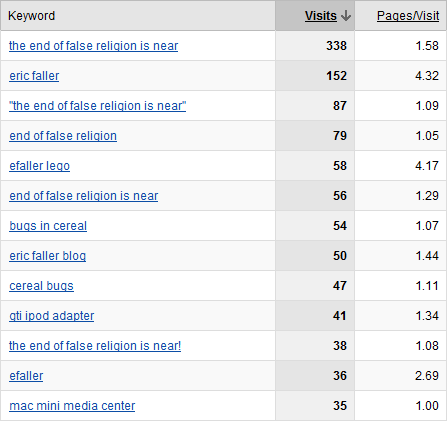 Thoughts:
It's nice to see that Jehovah's Witness propaganda is still 2x more popular than me (and, alas, the end of false religion still has not come).
Posted on June 2, 2007