This week CubeCheater has gotten a storm of publicity, ever since one of the videos was featured on YouTube. I'm getting so many comments and emails that it's been hard to keep up with it all.
So far the two YouTube videos have been viewed a combined 90,000 times. A Google search for "+cubecheater" now returns 2.3 million results, where it returned zero little more than a month ago (the vast majority of those are spam sites & splogs, of course).
Once everything settles down I'll write up a full post with all the relevant traffic charts and link graphs (yay, data!). In the meantime here's a preview of the good bits:
CubeCheater - As Seen On:
Gizmodo: "iPhone Rubik's Cube Solver Is Pure Genius"
Wired: "iPhone App Solves Rubik's Cube in 20 Moves or Better"
TUAW: "CubeCheater solves that Rubik's Cube for you"
MAKE: "iPhone app will help you deconstruct the Rubix cube"
Cult of Mac: "Your iPhone is Better than You at Solving a Rubik's Cube"
Posted on January 30, 2009
For a brief moment today, this was the Videos page on YouTube: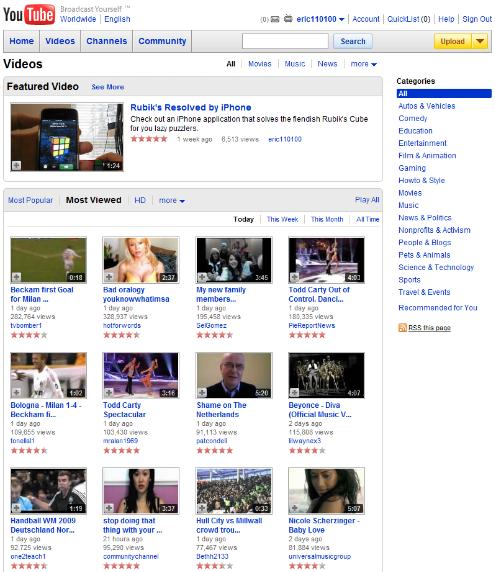 A CubeCheater video is at the top in the "Featured Video" section!
So far it looks like being featured was worth about 10,000 views. Alas, since the video doesn't feature any scantily clad women and/or European soccer games, it probably won't get 100,000 views and show up in the coveted "Most Viewed" section.
Tomorrow I'll check the sales reports to see how YouTube views affect actual App Store sales. Based on previous experiences, my prediction is that about 3% of the YouTube views will translate into purchases, which is actually pretty good given that it's basically free advertising.
Posted on January 26, 2009
This week CubeCheater officially became big in Japan. Kan Omi of ipodtouchlab.com wrote up a very generous review on his popular iPhone/iPod Touch site. It's quite extensive and even includes his own YouTube video: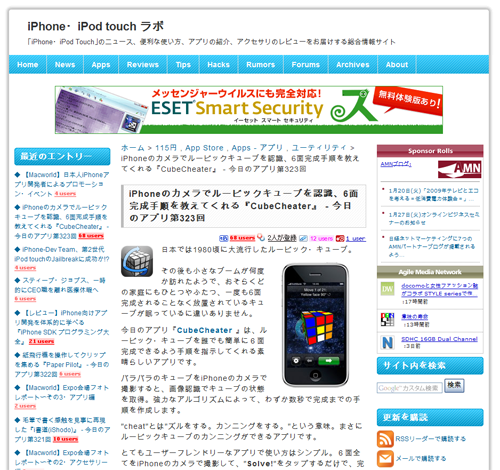 His YouTube video has already been viewed 3,000 times, which is about 3 times more than mine has been viewed in a month.
On the first day the sales in Japan shot up from about 0 per day to 218, netting a cool 25,000 yen. CubeCheater is now #20 on the Top Paid Apps list in the Japanese App Store - and that's all apps, not just Utilities: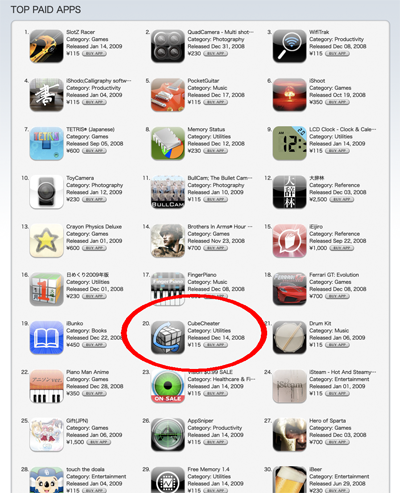 For comparison, in the U.S. App Store, it peaked at around #30 in Utilities, and never came close to making the Top list of all apps, which is dominated by games and fart apps.
Posted on January 17, 2009
The dryer vent on the roof of the apartment across the way from mine has been spewing out this weird looking red stuff all morning: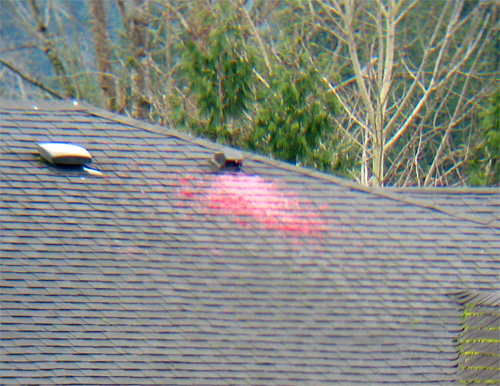 I wonder what they put through the wash?
Posted on January 3, 2009